What Halloween Decorations Should I Buy?
Ah, Halloween – that bewitching time of year when the air gets chillier, the pumpkins start grinning, and the ghosts come out to play. But what's Halloween without some spine-tinglingly spectacular decorations to set the mood? We've curated a list of 10 must-have items that will turn your Halloween party into the talk of the town, or should we say, the scream of the town!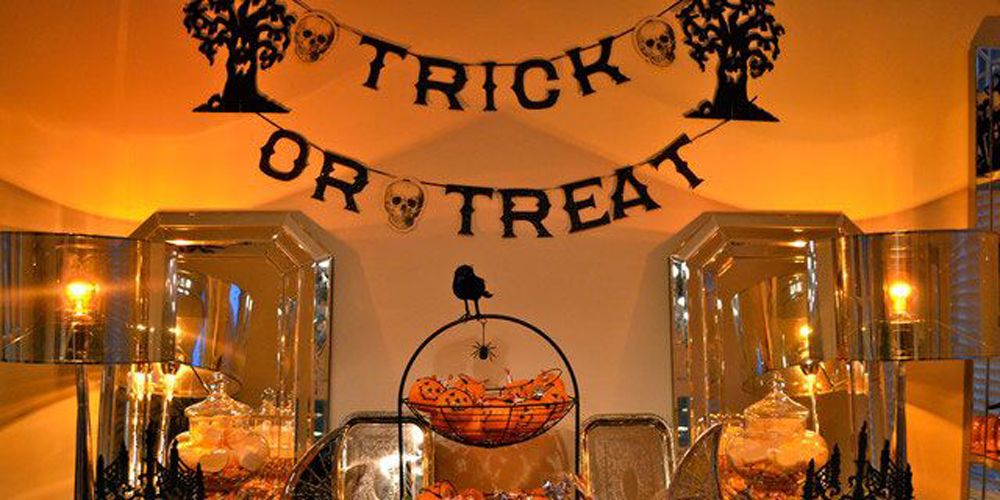 Scream Ghostface Light Up Mask
The Scream Ghostface Light Up Mask brings an electrifying twist to the classic horror icon. Crafted with meticulous attention to detail, this mask captures the chilling essence of the Ghostface character from the iconic Scream movie series. Constructed from high-quality materials, the mask features a realistic representation of the Ghostface visage, complete with the signature elongated mouth and haunting eyes.
What sets this mask apart is its unique light-up feature. Embedded within the mask are concealed LED lights that emanate an eerie glow, casting an otherworldly aura on the wearer's face. With a simple press of a button, the mask comes to life, its contoured features bathed in an ominous light. Whether you're looking to create an unforgettable Halloween costume or a spine-tingling cosplay, the Scream Ghostface Light Up Mask is sure to add an extra layer of intrigue and fear to your portrayal of this notorious horror character.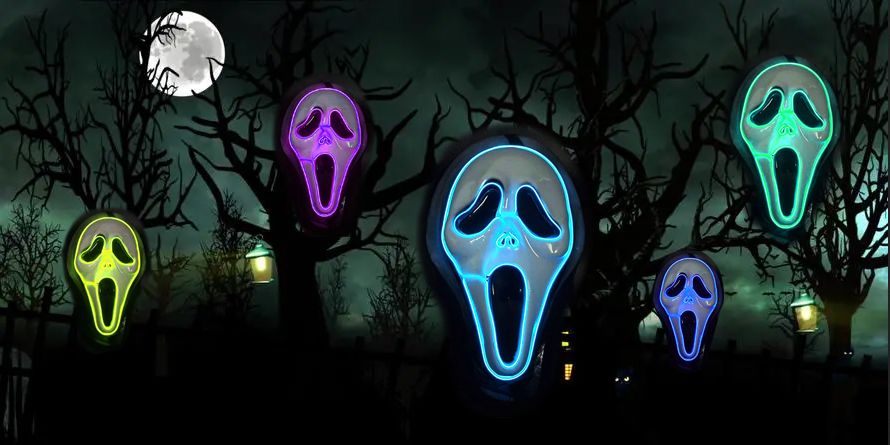 Halloween Skull Candle Holder
A captivating blend of spooky aesthetics and delightful aromatics, designed to infuse your space with an eerie yet inviting atmosphere. This scented candle is the ultimate fusion of chilling visuals and enchanting fragrances, making it a must-have addition to your Halloween decor collection. Crafted with meticulous attention to detail, the Halloween Skull Scented Candle features a meticulously sculpted skull design, complete with intricate engravings and a hauntingly realistic finish. Made from premium paraffin wax, the candle's texture and appearance enhance its lifelike appeal, creating a stunning centerpiece for your Halloween-themed setup.
The Halloween Skull Scented Candle is an ideal addition to your holiday decor, whether you're hosting a Halloween party, setting up a haunted house, or simply creating a cozy ambiance for the season. Its flickering flame casts intriguing shadows through the skull's engravings, adding an extra layer of mystique to your space.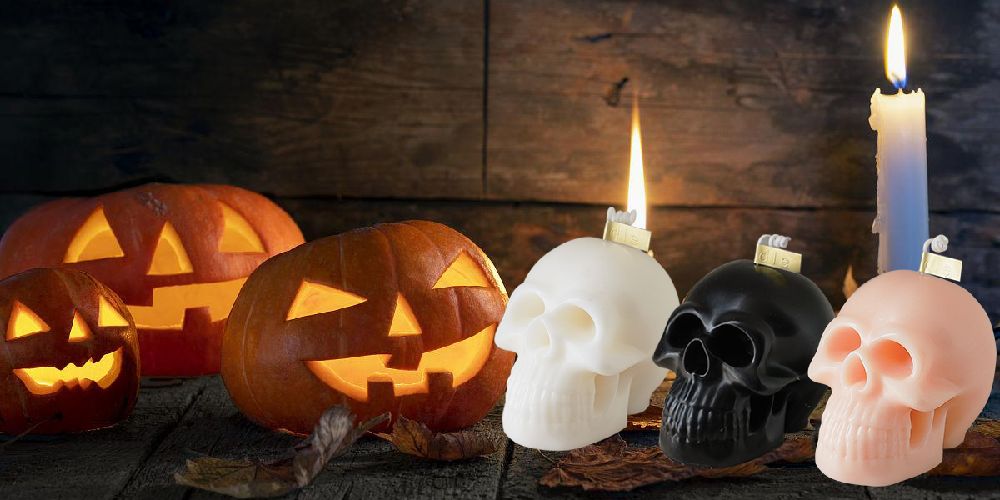 Brain Holder Candle
The Halloween Brain Blossom Candle is meticulously crafted from high-quality wax, expertly molded into the intricate form of a human brain. Its lifelike appearance, complete with delicate crevices and contours, adds an element of realism to your Halloween ambiance.
Complementing this brain-shaped marvel is the Humanoid Holder, an Artistic Candle Holder that seamlessly blends the features of a humanoid figure with a touch of eerie allure. This holder serves as the "head" upon which the brain candle sits, creating a visually captivating and slightly unsettling tableau that piques curiosity and sparks conversation.
Position this mesmerizing ensemble on your coffee table, mantel, or as the centerpiece of your Halloween soirée, and watch as it becomes a focal point for intrigue. The flickering flame casts enchanting shadows through the brain's intricate folds, amplifying the air of mystery.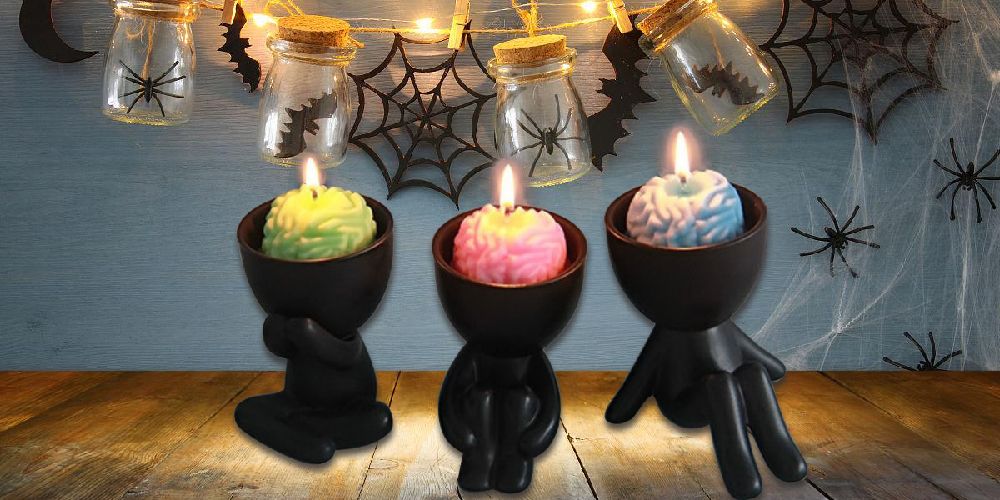 Halloween Horror House Sign
Crafted with meticulous attention to detail, the Halloween Horror House Sign features a weathered and worn appearance, as if it has weathered years of haunting tales. The distressed finish adds authenticity and a touch of foreboding to the sign, making it a standout piece in any Halloween setup. The sign's design is a blend of Gothic typography and macabre imagery, evoking the essence of a haunted mansion or a spine-tingling horror story. The combination of bold lettering and subtle distressing creates an aura of mystery that's perfect for adding an air of intrigue to your Halloween decor.
Whether you're hosting a Halloween party, creating a spooky front yard display, or simply embracing the season's dark and enchanting vibe, the Halloween Horror House Sign is the perfect statement piece. Hang it on your door, prop it up against a wall, or incorporate it into your haunted house setup – it's sure to become a conversation starter and a visual focal point. Embrace the eerie, the unknown, and the spine-chilling with the Halloween Horror House Sign. Transform your space into a haunted haven and welcome guests into a world of thrills and suspense. Let the sign be your portal to a realm of Halloween enchantment that will leave an indelible mark on all who dare to venture near.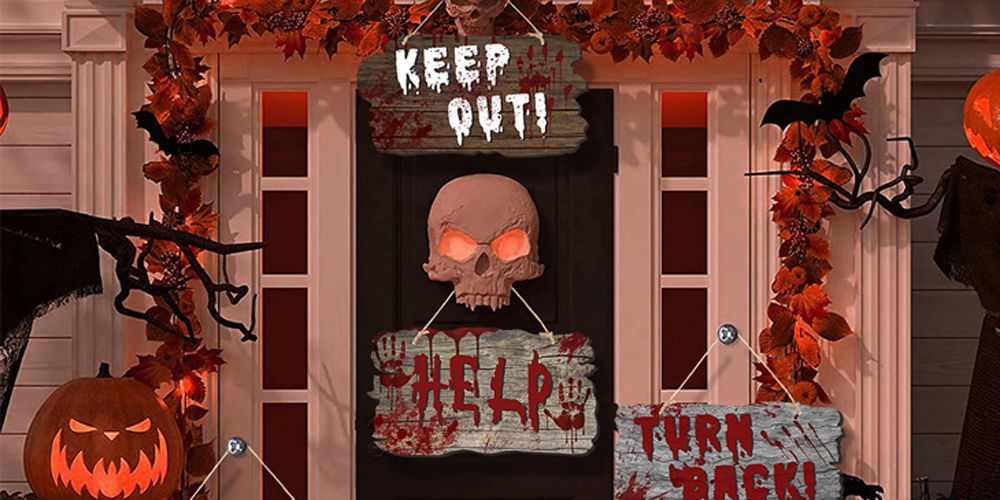 Remote Control Cockroach Prank Toy
This innovative toy takes pranks to a new level by offering you the ability to remotely control a lifelike cockroach replica. Get ready to amuse and astonish your friends and family in the most playful way. Designed with meticulous attention to detail, the Remote-Controlled Cockroach Prank Toy boasts an uncanny resemblance to a real cockroach. Its lifelike appearance, complete with realistic legs and twitching antennae, ensures that the prank is not only convincing but also utterly delightful. Equipped with an intuitive remote control, you can guide the cockroach in all directions, including a full 360° rotation. This dynamic mobility allows you to navigate the toy across floors, tables, and even vertical surfaces, enhancing the element of surprise and adding an extra layer of amusement.
Whether you're orchestrating a practical joke, engaging in a friendly prank competition, or simply looking to inject some humor into gatherings, the Remote-Controlled Cockroach Prank Toy is the ultimate choice. Its ability to elicit laughter while masterfully playing on common fears makes it a versatile and incredibly fun addition to any occasion.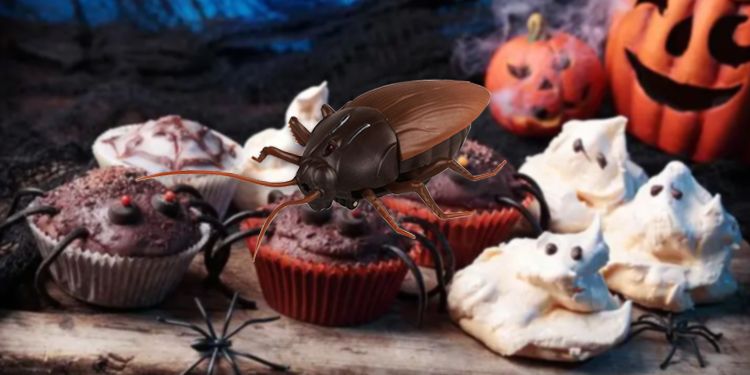 Halloween Ghost Scented Candle
This unique candle features a cute ghost figure with outstretched arms, holding a candle within its open mouth, creating a delightfully eerie centerpiece that captures the spirit of the season in an adorable way. Crafted with meticulous attention to detail, the Adorably Spooky Scented Candle showcases a ghostly apparition with a playful and endearing presence. The figure's open mouth cleverly serves as a holder for the candle, adding a touch of creative cuteness to the design.
Position this captivating candle on your mantel, tabletop, or even as a centerpiece for your Halloween gathering. Watch as the ghostly figure and the flickering flame cast enchanting shadows that dance across your space, immersing your surroundings in a realm of mystique.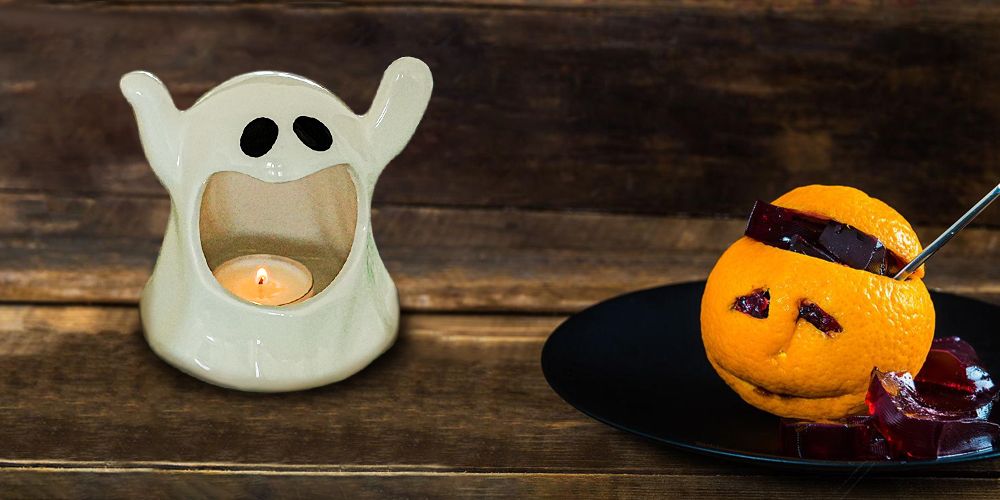 Get ready to party like a poltergeist with these Halloween gems that'll make your celebrations spooktacular!
Not quite satisfied with the above or want more Halloween thriller series? You can check out our Funny Halloween Gifts, or check out all of our hilarious and funny gifts (including neat de-stressing toys, brainy products, and hilarious household items) at Funny.com!